A place-and-train programme for Professionals, Managers, Executives and Technicians (PMETs)
Singapore National Employers Federation (SNEF) has been appointed as the Programme Manager to administer the Place-and-Train (PnT) Programme for SMEs and PMETs under the Workforce Singapore's (WSG) P-Max initiative. The programme aims to assist SMEs to better recruit, train, manage and retain PMETs. Employers are also encouraged to adopt progressive HR practices within the company.
The increasing employment challenges faced by displaced senior workers is a cause for concern for workers aged above 50 in the areas of job opportunities and security, as well as employment assistance.
To help them overcome these challenges, P-Max was enhanced in July 2019 to increase its focus on placing and retaining Singaporean PMETs over 50 years of age into SME jobs. At the same time, the programme aims to help employers establish a culture of workplace inclusiveness with the implementation of Age Management practices.
More information about the P-Max programme follows: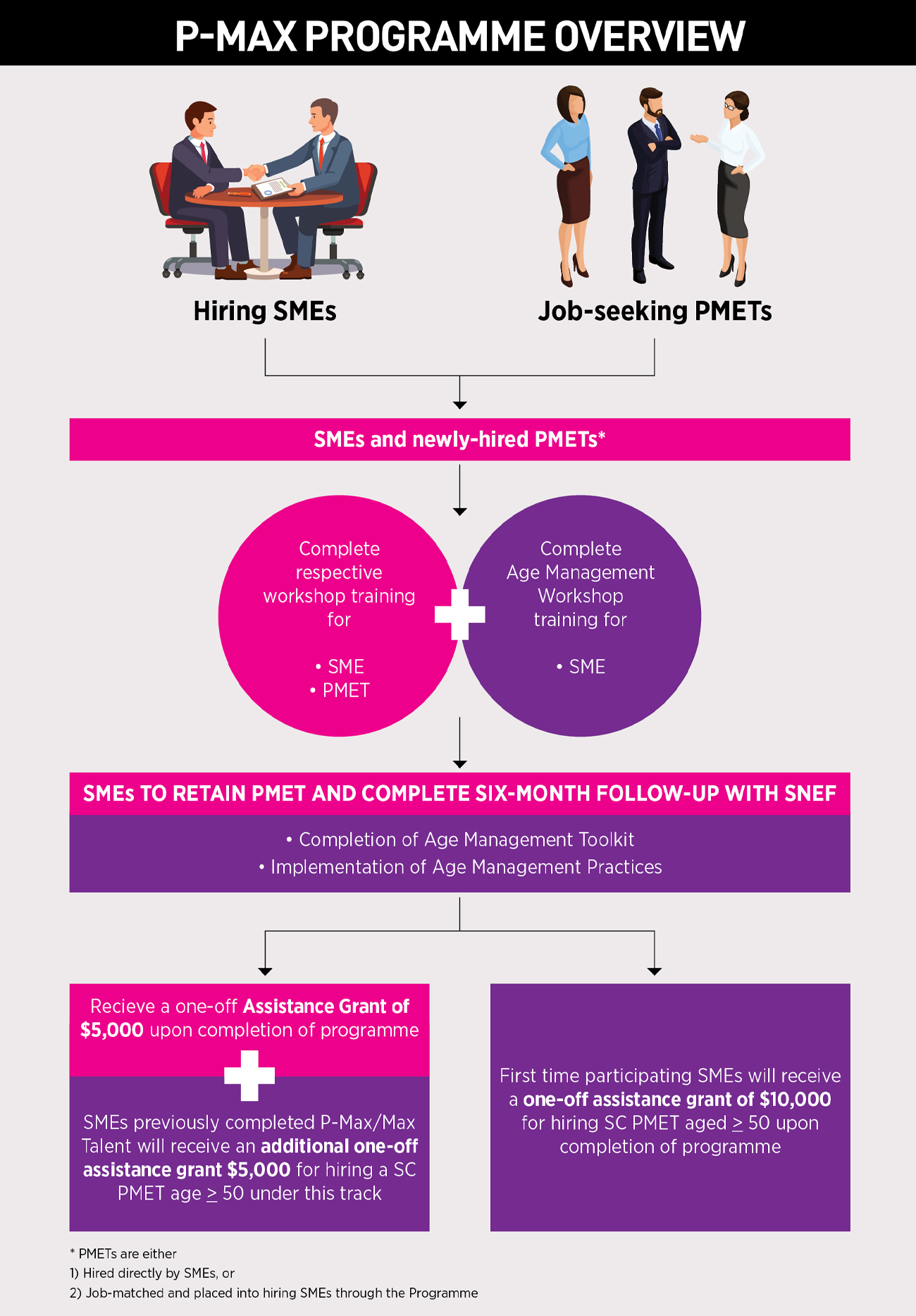 SME Criteria
Be registered and incorporated in Singapore
Have an annual sales turnover (at group level) of not more than $100 million or employment size not exceeding 200 employees (at group level)
Minimum 30% local shareholding held by Singapore Citizens or Singapore Permanent Residents
Offer available PMET job vacancies and/or hired a PMET within the last three months (i.e. 90 days) offering a gross monthly salary of at least S$2,500, prior to enrolment into programme
PMET Criteria
(A) P-Max Track
Be a Singapore Citizen (SC) or Singapore Permanent Resident (SPR);
Possess educational qualifications equivalent to a Diploma or higher, and/or is employed or have prior work experience in a Professional, Managerial, Executive, Technician (PMET) position;
Have graduated or completed National Service for a minimum period of 12 months
(B) P-Max Track for SC PMET aged ≥ 50
Be a Singapore Citizen (SC) aged 50 years and above;
Fulfill the criteria stipulated in (A) above
REVIEW BY A PARTICIPATING EMPLOYER
By attending the P-Max Programme, we have learnt the importance of communication and interaction in assimilating our newly-hired PMETs on the job. In addition, through the use of the SME Resource Toolkit provided, we are now able to apply new HR concepts and techniques, such as performance evaluation and KPI setting.
In the long run, I am sure such adoption will bring about closer working relationships amongst our employees.
Joanna Lee, General Manager
Astro Express Logistics Pte Ltd
REVIEW BY A PARTICIPATING PMET
I enjoyed the P-Max PMET training workshop, and specifically benefitted from the tips on leadership, problem solving and self-development. It also showed me the significance of working in an SME, motivated me to find my place and contribute meaningfully to the company. On the organisational level, the P-Max Resource Toolkit introduced a conscious mentoring structure to the company. In turn, this helps PMETs like myself to adapt faster and receive more guidance along the way.
Vanessa Puah, Senior Partnerships Manager
Focus on the Family Singapore Ltd
Contact us on tel: 6827 6977, email: p-max@snef.org.sg or visit our site here